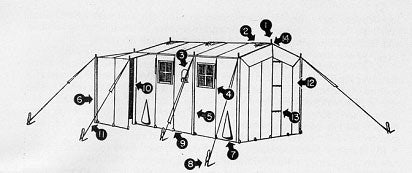 Tent , Command Post, M-1942 (No Stakes or Poles)
This is the tent used in the battlefield to provide shelter and quarter for small unit command posts.  We are able to custom produce this tent to customer specs..  Email us for a quote for a tent, poles, and stakes, and for freight shipping options.  This tent is 7 feet wide, 11 feet 10 ½ inches long, and 7 feet high. Floor space is 84 square feet. It has an entry 26 inches wide.
Some specifications for original tents and associated supplies can be found here.  
    Price to be updated 2023.
Click here to email us with any questions.

Click here for an important message about sold-out merchandise.