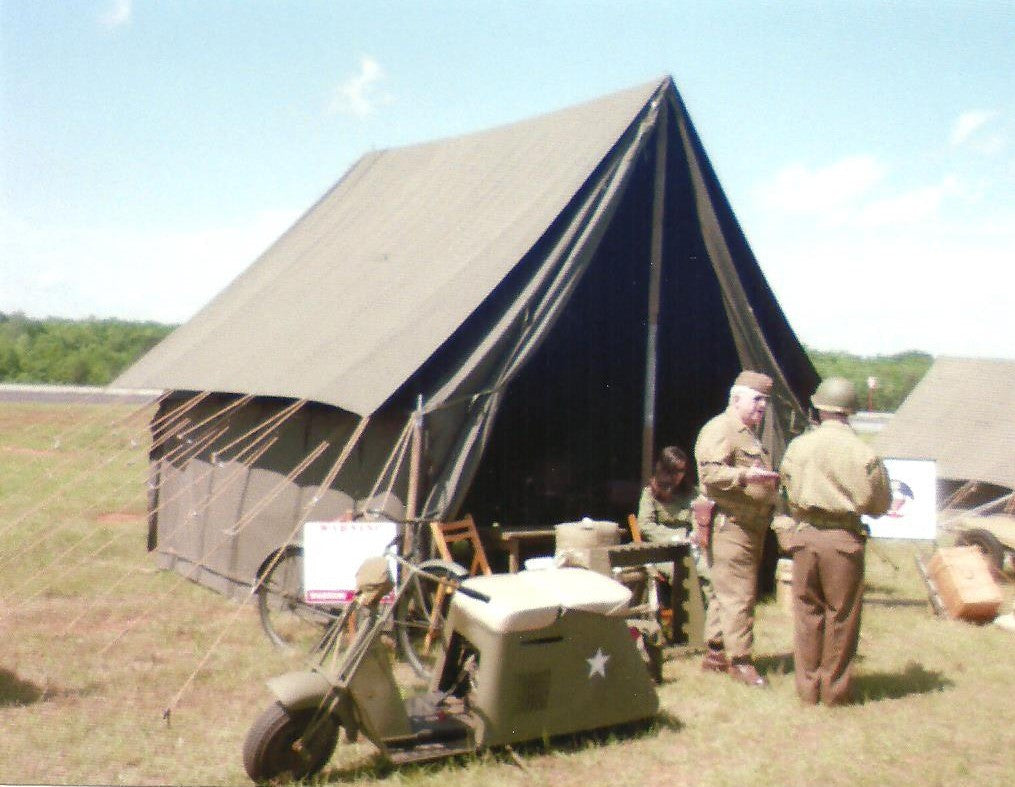 Tent and Fly, Wall, Large (No Stakes or Poles)
     Price to be updated 2023.
This tent appeared in the Company Streets as well but was used mostly for headquarters and other specialized purposes. These tents are authentically made 14'x14.5'x12' for the large using the well known odorous FMWR #12 Od canvas, cotton or jute ropes, and metal wire slips. Both large and small tents include the Od canvas fly.  To order this tent please email us with your shipping address so that we may email you a payment link with the correct shipping amount.
Some specifications for original tents and associated supplies can be found here.  
Special note when sourcing wood poles and stakes for the Large Wall Tent:  Uprights for the large wall tent are historically 11'0" for the ridge support and 4'9" for the corners.  These dimensions are of the wood poles themselves and are not inclusive of the steel spindles.  The modern military surplus GP large uprights are 12' tall and are a suitable substitute for the center upright and would require the simple cutting down from 12' to 11'.  GP small and medium uprights are 10' tall and thus are too short for use with this tent.  The corner poles can be cut to size from modern GP corner poles.  Modern military surplus oak stakes are exactly the same design as used during WWII.  The sectional ridge pole measures 14' long and the spindle distance is 13'10-1/2".  Sectional GP ridge poles can be retrofitted for use by cutting and drilling to size a piece of 4x4 lumber.  The edges of 4x4 should be bullnose rounded 1/2" rad. so as to avoid damaging the canvas.  Rounding is best performed by a router with a 1/2" rounding attachment.  Holes should be drilled with 3/4" butterfly bit.  Ends of the lumber can be reinforced with galvanized metal plumber's pipe hanging strap.  No sharp edges should touch the canvas.
Click here to email us with any questions.

Click here for an important message about sold-out merchandise.