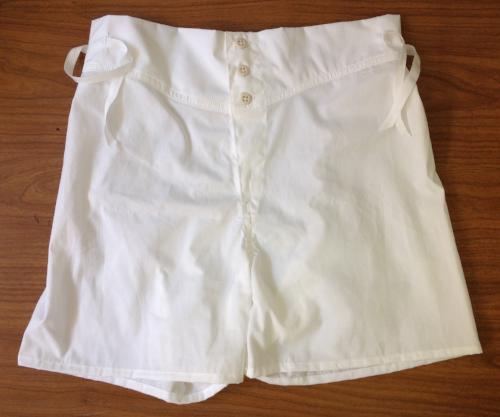 Drawers, Cotton, Short, WHITE
These are replicas of the classic American military white cotton drawers AKA "skivvies".  Made from comfortable 100% cotton white fabric.  Constructed using 100% cotton thread and white solid cast military style buttons.  When worn with a plain white undershirt this is the common style of undergarment for early period WWII soldiers, sailors, marines, and airman!  Please check for proper fit after 1" shrinkage.  We made them in all even sizes but with the side adjustment ties they can be taken in 2-3 inches.
Sale: Buy three or more of this or any other Cotton Drawers (Skivvies) and automatically get a 10% discount off the Drawers on your shopping cart.
Click here to email us with any questions.

Click here for an important message about sold-out merchandise.