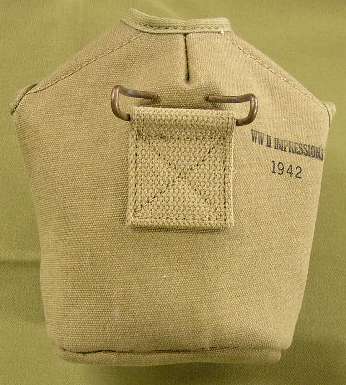 Cover, Canteen, Dismounted, M1910
This is a carrier for the water canteen and cup, and through the use of the felt lining serves as an insulation to keep the contents of the canteen cool. These are made from heavy durable mil spec cotton duck dyed with a sun resistant finish. We used actual army specs to produce our own version of this common army item. However, what is so uncommon about our product is that we did not use an already shrunk original to produce our patterns. Our is sized roomy as an unissued original should be. Canvas always shrinks when new and soaked. Army practice suggested soaking the covers to keep canteens cool during hot weather.

Click here to email us with any questions.

Click here for an important message about sold-out merchandise.