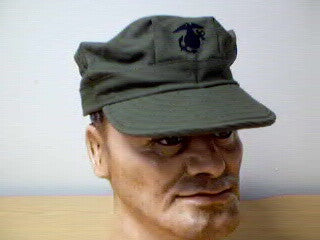 Cover, Utility, Green, USMC
P1944 Green Utility Covers are made from our excellent quality American made and custom woven cotton Herringbone Twill fabric and features the Eagle Globe and Anchor. The visor is lined with firm heavy cotton duck material just like on original caps. A very high quality piece of headgear.  We authentically duplicate original utility covers for materials, construction, and craftsmanship, and build them correctly in our location in Los Angeles. One example of this is the visor. Ours are made from authentic materials which render the bill rigid yet flexible. Also, we duplicated the original Eagle, Globe, and Anchor for a very authentic look.  Our P44 HBT caps were produced in various production runs and colors may NOT match HBT Coats and Trousers.  These caps were historically designed for fatigue/field duty.  They are not dress caps by any standard.  Therefore, the front Marine emblem may be slightly off center.
Click here to email us with any questions.

Click here for an important message about sold-out merchandise.