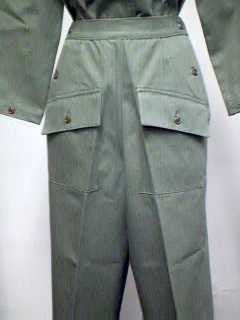 Trousers, Herringbone Twill, Women's, Light Shade, Army
More excellent quality American made Herringbone Twill fabric has been ordered and all Marine and Army HBT products will begin restocking soon.  If you haven't already done so, sign up for our newsletter by inserting your email address into the newsletter box at the bottom of our home page to get immediate notifications when products arrive and restock.     Price to be updated 2023.
We are proud to be the first company in the world to reproduce Women's WWII uniforms. These were used by many women in the field such as WACs, Nurses, air-crew mechanics, etc.. We have reproduced these in Light shade and Dark shade HBT fabric with brown plastic buttons. Complete the impression with a matching Daisy Mae Hat or HBT cap.
Fitting suggestions.  These fatigues follow original fatigue patterns.  The shirts run snug and the trousers run roomy in the seat.  Minor shrinkage should be expected.  Please order accordingly.
Size Small (23-26 Waist)
Size Meduim (27-30 Waist)
Size Large (31-34 Waist)
Size Xlarge (35-38 Waist)
Size XXLarge (39-42 Waist)
Size XXXLarge (43-45 Waist)
(Waist measure at Navel.)
Click here to email us with any questions.

Click here for an important message about sold-out merchandise.
---
Other fine products you might be interested in...