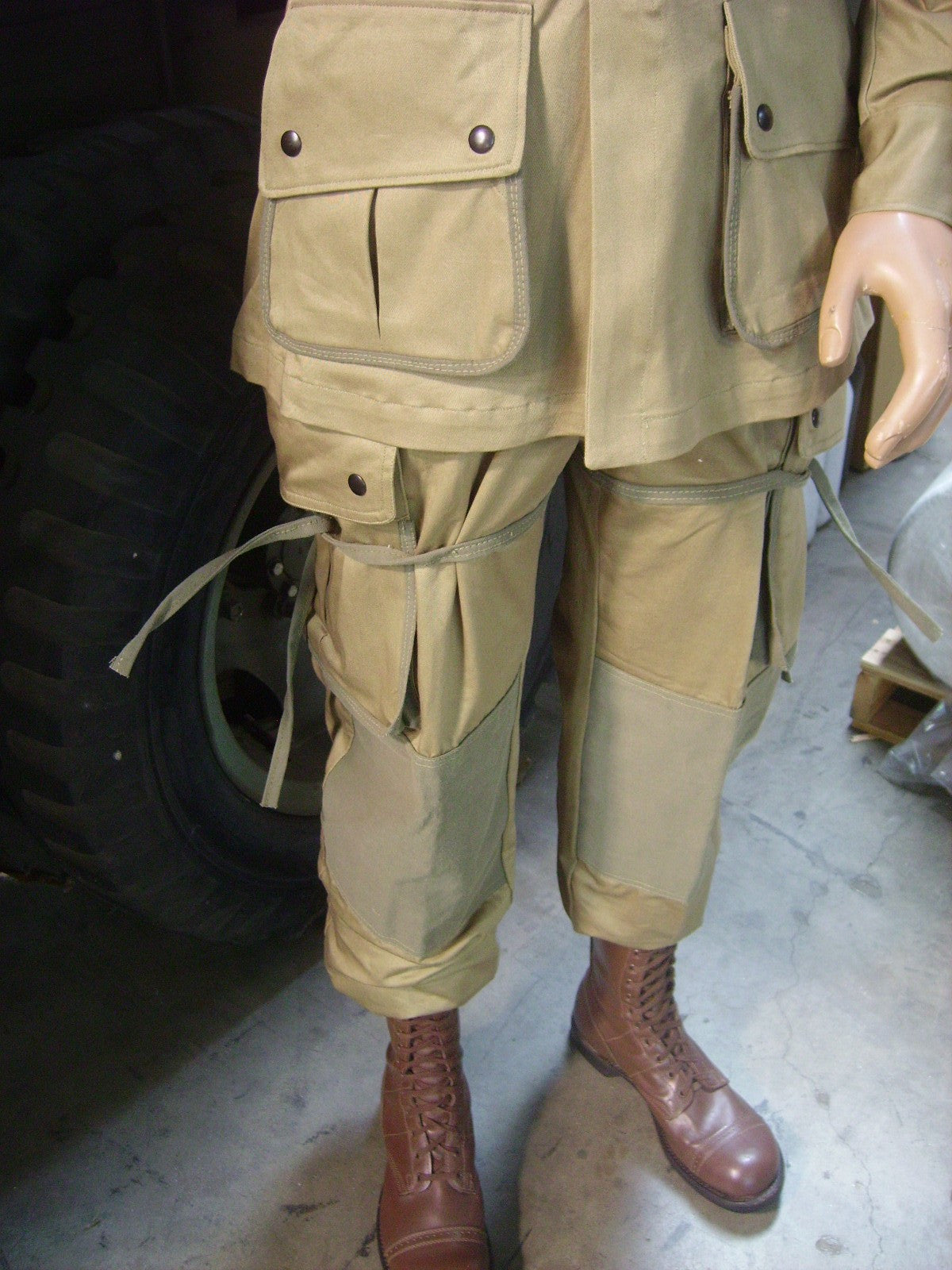 Trousers, Jumper, Parachute, QM
Trousers, Jumper, Parachute, QM (Picture shows OL style canvas reinforcements, which are not included on the QM model trousers.)
Collectors and enthusiasts have termed this uniform as the M42 Paratrooper Jumpsuit.  We replicate this uniform authentically using domestically woven 100% cotton twill in the correct weight and density and dyed to a popular earthy tone shade of O.D. #3.  You don't have to tolerate your suit turning orange from sun exposure and striping from sweat stains like our competitor's suits do. The dye we use is military spec for colorfastness and resistance to the sun. We use mercerized and glazed 100% cotton thread matched for color and gauge to stitch together the garment.  A genuine brass Talon brand zipper with auto-bell slider closes the front of the coat.  Mil-spec snaps colored in a dull nickel finish and are affixed to the cuffs, collar, pockets and flaps with caps that are dull blackened.  The coat includes a cloth belt with a dull blackened metal slide buckle and cloth keeper.  The trousers include a white cotton pocket, fly, and waist band lining.  Solid cast medium brown plastic buttons are affixed for fly closure and suspender attachment.  Both garments even include authentic WWII era QM inspector labels with sizing and contract info stitched in locations as historically done in the real garments.  The Quartermaster or QM suit is our version of the standard unreinforced model; and the Overlord or OL model is our version of the canvas reinforced model as was worn by paratroopers landing in France during the Normandy invasion of the European continent, June 6 1944.   For the OL model we use actual tacky and smelly treated canvas which is the same type as used during WWII, not simply OD dyed canvas.  This canvas is stitched to elbow and knees, and to the lower coat and thigh cargo pockets, and leg tie straps.
Click here to email us with any questions.

Click here for an important message about sold-out merchandise.