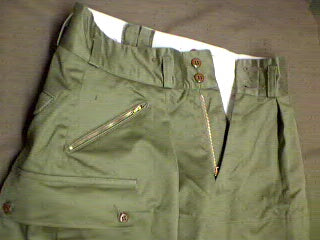 Trousers, Mountain
These are exact duplicates of the original WWII era US Army mountain trousers. No corners were cut in their production. This style of uniform is very labor intensive and detailed.  Our mountain trousers are made from custom woven windproof sateen in the same specification as used on originals.  These are perfect for 10th Mountain Division and 1st Special Service Force impressions. They include authentic brown buttons, brass zippers, fly construction, front pleats, cargo pockets, zippered front pockets, and black elastic ankle tapes, complete with an authentic WWII style contractor label.  Our mountain trousers have the authentic pleated front and high-back styling of 1940s ski trousers.  In the early years of WWII the Army allowed for a multitude of unique uniforms for specialized troops. Eventually the M1943 Field Uniform would replace the mountain uniform. Although developed for use by mountain/ski troops, special operations units like the 1st Special Service Force also wore them during operations behind enemy lines.
This is a limited production item and restock is not certain.  The waist measurement on this 2019 production runs ½" larger than the marked size. Also, there is extra seam allowance in the seat to let out if necessary.
Click here to email us with any questions.

Click here for an important message about sold-out merchandise.