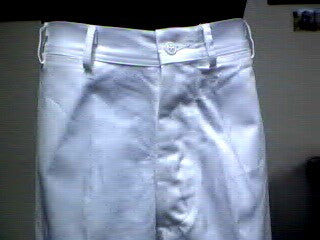 Trousers, White, Navy CLOSEOUT sold as-is. All sales final.
CLOSEOUT sold as-is. All sales final.
One pair has small stains, the other has a weave flaw.
Standard issue US Navy enlisted white trousers worn with the sailor's undress white uniform.  Has the wide bottom outlet and single piece leg.  There is no outside seam on this style of trousers just like the originals.  Two pockets are hidden in the front just under the waistband.  Has a button fly with solid cast white four-hole milspec buttons.  Worn with white or black belt.
Click here to email us with any questions.

Click here for an important message about sold-out merchandise.
---
Other fine products you might be interested in...