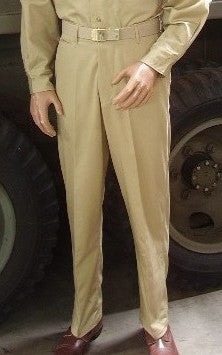 Trousers, Cotton, Khaki, Army
This is the standard issue enlisted men's and officer's trouser worn in both dress and field khaki cotton uniforms. Made from 100% Khaki cotton twill in the correct 8.2oz. These trousers feature double welt back and watch pockets and slit hip pockets. They have a button fly using brown plastic buttons. These pants will provide comfort and durability for summertime wearing. The majority of Officers and EM wore the same pattern khaki cotton pants. Some shrinkage should be expected.
Also, these trousers were nearly identical to the US Navy Officer's style duty uniform.
Click here to email us with any questions.

Click here for an important message about sold-out merchandise.