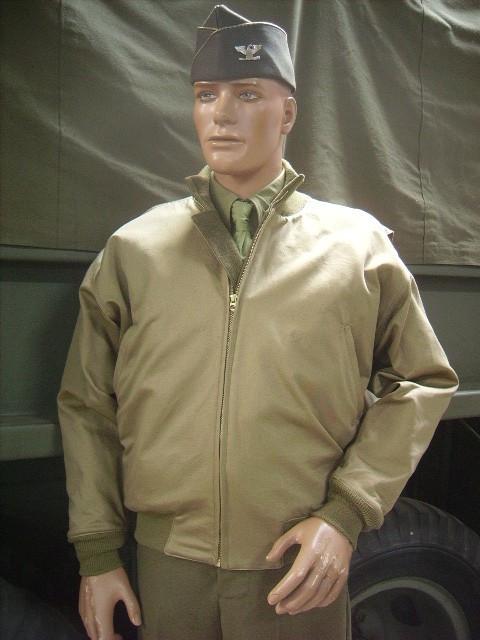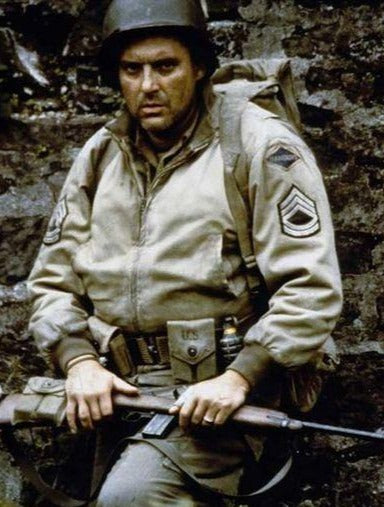 Jacket, Combat, Winter (Second model tanker, with Hidden Pockets)
The Winter Combat Uniform consisted of the Winter Combat Jacket, Winter Combat Trousers, and the Winter Combat Helmet. The jacket eventually became known as the Tanker Jacket by the veterans and uniform collectors. It's intent was for use by any Army troops needing a heavy-duty cold weather winter garment. Soldiers that were assigned to tank and reconnaissance units and armored infantry units in half-tracks needed cold weather gear when fighting from armored vehicles since they didn't have efficient space heating. Eventually, other ground fighting infantry, artillery, and other units were also issued the winter combat uniform while fighting in frigid winter climates. This jacket very quickly earned an affinity by military people in many of the services due to its thermal protection and ease of wearing. Many Army men and women not in the armored units during WWII tried to get their hands on a Tanker Jacket just because it was very stylish and that following continues to this day.


Our Tanker uniform could have been worn by soldiers fighting in the Battle of the Bulge... they're that good! For this uniform we had our own 100% wool melton custom woven and heather dyed to match originals. We used 100% cotton twill in the correct 8.2oz weight dyed using mil-spec dyes to match the earlier shade OD #3. Our knit cuffs, collar, and waist band are made of 100% wool yarn dyed to the authentic shading. The zipper is a genuine durable Talon or Ideal bell shaped nickel slider on nickel teeth. To top off our beautiful recreation we slapped an authentic wash-away US QM inspector tag inside bearing the size, our name and authentic contractor and spec information. Tanker trousers were made using the same cotton twill dyed in olive shade of OD#3 and dark olive wool melton lining as the jackets. The front, side pocket access and front fly are closed using genuine nickel plated talon zippers. The bottoms of the legs include snap adjustments. Bear in mind the trousers have significantly more amount of the twill shell, wool melton, zippers, and labor involved as the tanker jacket which explains the contrast price.

This jacket was issued in two variations. The first model was produced with exterior patch pockets and the second model jacket came with interior hidden pockets. Collectors covet the first model jackets due to their scarcity. Photos of General George S. Patton abound indicating his favorite combat jacket as the first model style. However, the vast majority of winter combat jackets that were worn in combat by US military forces in WWII was the second model jacket with the hidden pockets. We were honored to supply the feature film "FURY" with our quality jackets in both the first and second model variations. Shown here is a photo of Fury star Brad Pitt wearing one of our first pattern tanker jackets that has been heavily aged and worn in.

Our patterns are true to size. They are not over nor under sized. You should order your usual sport coat chest size. Sizes we offer for our winter combat uniform items are shown in the drop down menus below.  Longs are available in only 40 and 44 chest sizes, and are 3" inches longer in the body and 2" longer in the sleeves than our regulars.
 "Under direction of the Costume Designer, we fitted our hero characters (Incl. Warddady) with a mix of the following WWII Impressions, INC uniforms: Tanker jackets and pants, HBT Caps, fatigues and one-pc suits, M41 Jackets, M43 Caps Field jackets and trousers, OD Wool shirts and trousers, OD Undergarments, Horsehide Gloves, canvas leggings, and footwear. These uniforms held up outstandingly well during the course of filming. The accuracy of WWII Impressions uniforms stood out among similar products supplied by other replicators as attested by our military advisors and technicians. These uniforms were well worth the investment. We would highly recommend WWII Impressions, Inc products for any film production and we look forward to working with them again in the near future."

Daryl Bristow
Costume Supervisor
FURY
Click here to email us with any questions.

Click here for an important message about sold-out merchandise.