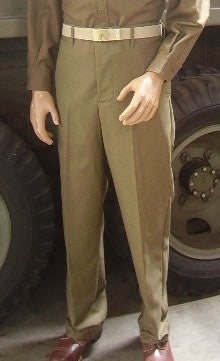 Trousers, Wool, Serge, OD, Light Shade (M1937) CLOSEOUT sold as-is. All sales final.
CLOSEOUT sold as-is. All sales final.  Rear pocket slightly mis-aligned.
This is the standard issue enlisted men's trouser worn in both dress and field uniforms. Officer's also wore these trousers with their field uniforms. We have contracted to have our own light shade Od Serge wool material custom dyed and woven to our specs (1940s military spec) in Mexico. Our 100% wool material was dyed and finished to exhibit the same speckled (heathered) appearance as original trousers.  These trousers are historically accurate in a slightly lighter shade in contrast to the darker shade of the Od serge wool coat and garrison cap.  The thread used is American spun authentically finished and rugged 100% cotton thread.  Pockets, fly, and waist band details are constructed exactly per original specifications.  The trousers have that hefty feel that is characteristic of a garment that is made in the USA to American military specs.  We proudly make and sell the ONLY domestically produced US Army Light Shade wool trousers available anywhere.  These trousers will outlast many originals and are authentic in every detail.  

Click here to email us with any questions.

Click here for an important message about sold-out merchandise.